Ohio Architect's Home: Building a Dream Home by the Lake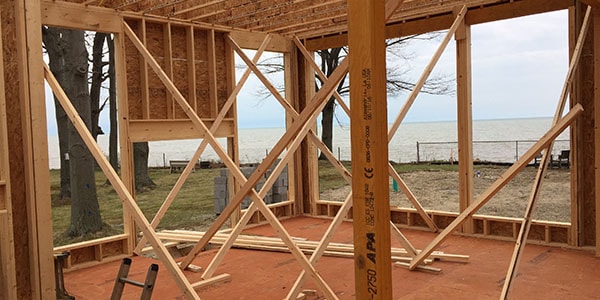 Once architect Dan Meehan's retirement home is complete, he and his wife will be able to enjoy majestic views of Lake Erie and the Cleveland skyline, across the water.
​The framing is now up in Dan Meehan's retirement home. He and his wife hope to move into their newly built house before Halloween, but he's already enjoying the view.
​"It's fun after the house is framed", Meehan said. "You start walking through the rooms and looking out the windows to see the wonderful views. It gets pretty exciting".
​The views which Meehan praises look out over Lake Erie in northern Ohio. He has a panoramic view of the centre of Cleveland, clear across Erie to the west. There's a private park adjacent to his lot, as well. Great views of nature there. Meehan has all of these premium vantage points on a lot that's no more than 45 feet (13 metres) wide, which he admits is unusually narrow.
​"(My wife and I) had to ask ourselves 'How do we lay out this house to maximise these views?'"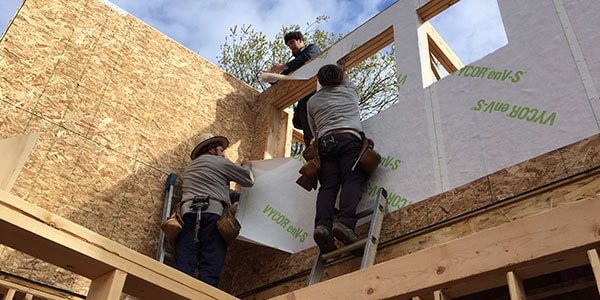 Framers were able to wrap the entire house with VYCOR® enV-S™ within a few days. No tools, other than a roller and a knife, needed for the self-adhered weather resistant barrier that can easily withstand the sometimes harsh winds off of Lake Erie.
Overlooking Lake Erie also posed certain weather-related challenges.
​"There are serious winds and horizontal rains that come off of the lake", Meehan said. "The (building) envelope is very important".
​Luckily for the married couple ready to settle into their dream retirement home, Dan Meehan is an accomplished architect.
​"I did a lot of research before selecting VYCOR® enV-S™ (weather resistant barrier) and the VYCOR® Pro flashing tape (which seals at windows and doors behind cladding)", he said. "I wanted a tight envelope that would work well in these winds. I really had to think about how to install a great weather barrier (system) that would hold up and apply easily".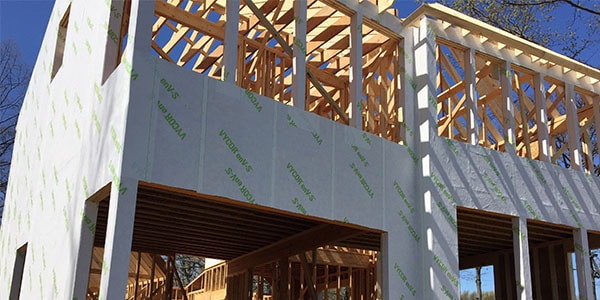 VYCOR® enV-S™ wraps the entire Meehan dream retirement home.
​Vycor wraps the entire home that's part brick, part 2x6 stud walls and insulated in foam. ICE & WATER SHIELD® will completely cover the roof, due to extensive wind exposure.
​"To me, ICE & WATER SHIELD® is always the go-to product. I (designed) a lot of very nice homes early on in my career and we always used GRACE ICE & WATER SHIELD®. I've only ever heard great things about it".
​The ICE & WATER SHIELD®, soundly protecting Meehan's prized lakeside home from brutal offshore winds, also marks milestones in his accomplished architectural career.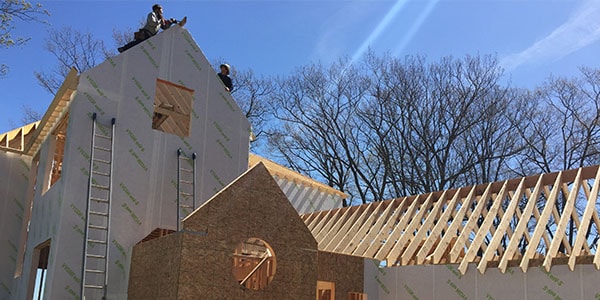 The Meehans' home sits on a lot no wider than 45 feet (13 metres), but is situated to maximise the beautiful views of Lake Erie and surrounding nature.
​"Twenty years ago, I used ICE & WATER SHIELD® on my house—the one we'll be selling shortly—just two courses, up the eves and in all of the valleys and hips", Meehan remembered, moving on to the lake house where he'll apply ICE & WATER SHIELD® over the whole roof due to heightened wind exposure.
​"I designed and built the house that my son and family grew up in two decades ago. And now I'm designing the house in which my wife and I will retire. To me, this project represents a nice way to wrap up a very successful practice".
Dan Meehan, a retired architect in Northeast Ohio, bought his lakeside property just for the beautiful views of Lake Erie and the Cleveland skyline across the water. He demolished the 1920s home situated on the land to make way for the Meehans' dream retirement home.
Tags
Building Envelope Solutions
Consultant
Contractor
Distributor
Grace Ice & Water Shield®
OAHome
Owner
Residential buildings
Roofing
Roofing Underlayments
Subcontractor
Underlayment
Waterproofing
Weather barriers