Waterproofing Singapore's Esplanade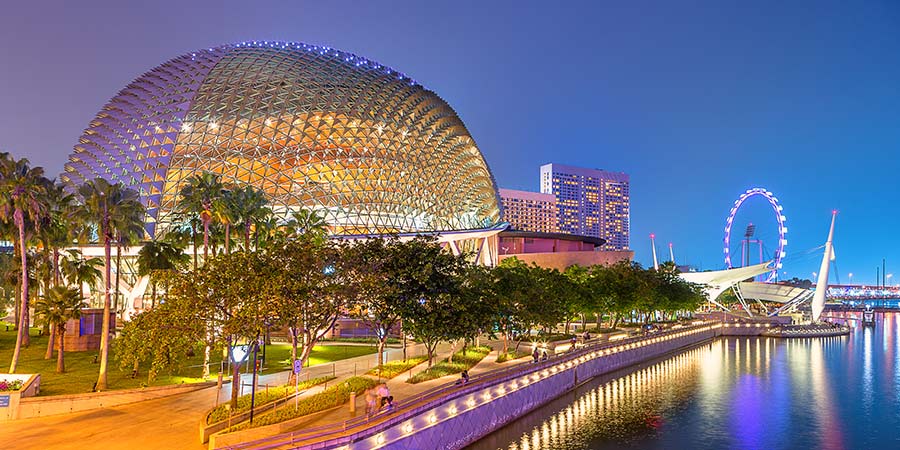 As part of the Esplanade Theatres on the Bay's refurbishment plans, the national arts center of Singapore took the opportunity to revitalise its Fourcourt Garden by embracing nature at its main entrance. The idea was to create an environment where the garden sits amid lush greenery, housing trees and plant life, as well as flora that thrive well in this tropical climate. 
The tight timeline was one of the main hurdles that the engineers and designers faced for this project. With a target to reopen in time for Singapore's 50th birthday, the project required a waterproofing system that could be professionally applied in the shortest time possible.
Furthermore, the unique design of the Fourcourt Garden posed a number of challenges for waterproofing works. To hold the various plants and trees, the architect designed several planter boxes set into the floor and flowerbeds with irregular curves. This demanded waterproofing that could adhere to vertical, horizontal and rounded surfaces without jeopardising its ability to repel water.
The job called for a waterproofing system that was quick to apply and would adhere to surfaces that were laid out in a number of directions. The Esplanade's architects consulted with GCP, who devised a plan using its SILCOR® waterproofing system. The construction crews used high-pressure spray equipment to apply the two-part, fast and self-curing monolithic elastomer coating. "We achieved very good and wide coverage, averaging 800 square meters per day," said Director Aric Ho of waterproofing contractor Maxiseal Pte. Ltd.
The ease of application of SILCOR® waterproofing went a long way to making sure the Esplanade project was completed within the tight deadline. The fast curing properties contributed to the speed of the project. Within 20 seconds it transforms from a liquid to a gel and within 60 seconds it is no longer sticky. Heavy foot traffic on the surface can take place within two hours of application to the substrate. This meant the final top layer of concrete could be laid down that day or the next day, creating valuable time savings.
"The waterproofing progressed so well we could start pouring concrete onto it that same day, which was a real time saver for the project," said Mr. Ho.
Finally, the liquid application of SILCOR® waterproofing meant it easily overcame the challenges presented by the garden design's variety of surface shapes and contours. SILCOR® waterproofing seamlessly bonded to the substrate surface, providing a robust defense against water intrusion.
Its root resistant quality lent itself well to this application. As a Singapore Green Label endorsed product, SILCOR® liquid waterproofing, helped the designers achieve their goal of creating a lush, verdant landscape.